Today we are having a team-up with Pinque Peacock and SweetStamps where we'll show you some amazing cards in a two day blog hop. Be sure to read on if you are interested.

I'll start with showing you my card for this week made with products from both Pinque Peacock and SweetStamps.
And hereby I welcome you all to Day 1 of our Cross Promotion Blog Hop with the talented Designers at Sweet Stamps and Pinque Peacock.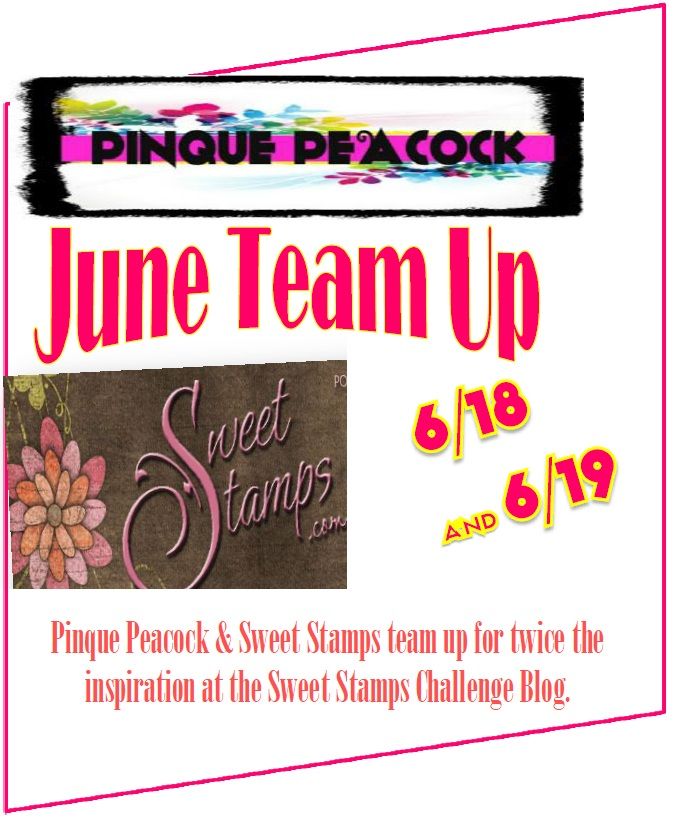 If you are arriving here from Marji Franklin's Blog, then you are right on track. However, if you would like to start at the beginning, please head over to either of the Main Blogs SweetStamps or Pinque Peacock.

This will be a 2 Day Hop starting at the Sweet Stamps Blog and the Pinque Peacock Blog each day. Please do visit each of the Main Blogs to show your love to both companies that have organized this fun event for you! Tell Your Friends, too....Lot's of Eye Candy along the way! And there is sure to be lots of Blog Candy, too!

The Pinque Peacock "Pinquette" Artists & Creators (DT) and the Sweet Stamps Design Team have been working their Creative Effforts to the max behind the scenes, to create some wonderful projects using the Pretties at the Pinque Peacock Shop...




...and the Fabulous Products from the SweetStamps.com Shop



This Hop will lead you directly into the NEW Challenge at the Sweet Stamps BLOG where the new Challenge will start and the theme will be everyone's favorite: Anything Goes.



Now when you have seen my card and read all about this wonderful hop you should be sure to head over to Janet Royer's Blog to peek at her beautiful creation and get all the details on how it was created.


And in case you haven't seen the other blogs yet, here is the full lineup for todays hop.

SweetStamps Blog
Pinque Peacock

Kendra Sand
Donna K Baes
DeNetra Bates
Marji Franklin
Erika Selander - you are here
Janet Royer
Lisa Lahiff
Paula Driver
Irit Shalom
Susie Gerdes
Karrie Snider
Beckie Woodall
Calypso Bastian
Jessie Mitchell
Shelly Schmidt

If you want to stay up to date on all the latest and greatest things happening at Pinque Peacock and at Sweet Stamps, be our latest fans!


Thank you so much for joining us for the cross promotion Blog Hop today and please be sure to stop back tomorrow for more great displays of talent and beauty during day 2.
Products used on this card:
Fabric Flower from Pinque Peacock
Wishing You Happiness 9063
NIGHTFALL Shades™ Ink Spot